The Fast and Furious films have been entertaining us for more than two decades. And, like every other millennial, we eagerly await the release of the new film in theatres or on streaming sites, and then watch it within an hour of its release. But how would you rate them from worst to best? Let's read about the 10 Fast and Furious movies ranked in an order of worst to best.
Nobody could have predicted the classical franchise would become everyone's favorite one day, or that the main protagonists' objectives would shift from robbing DVD players to sending Tej Parker to outer space, based on their modest B-movie beginnings.
Ironically, the series started as a more ordinary version of Kathryn Bigelow's crime drama "Point Break," about surfing bank robbers, but over the course of nine installments, "The Fast and the Furious" has managed to grow so far beyond the parameters of what seemed ridiculous in 1991 that it's impossible to rate them on a scale of zero to 60.
From such a little start, the audience had already sensed the upcoming drama that is on its way for them to welcome. Vin Diesel has already established himself as a star, and Brian' O Conner and Dominic Toretto's chemistry was fantastic!
What happened next was a mystery, and it remained that way for three movies, each pushing the story in a new direction. It was not until the fifth film in the series, Fast Five, that it became what it is now: a full-fledged, revved-up blockbuster franchise.
F9 is the most recent installment, and while the series' conclusion is near, the back view mirror reveals one of cinema's most unique and organically formed franchises. It's a proudly multicultural event with an unexpectedly vast narrative. Here is a list of the Fast and Furious movies ranked, from worst to best.
10. Fast and Furious Presents: Hobbs and Shaw (2019)
In the eighth Fast and Furious film, Dwayne Johnson and Jason Statham shared a few sequences of true chemistry. Naturally, it was decided that the duo's chemistry should be revived for a full feature film: Hobbs and Shaw.
Both of these guys are definitely capable of leading their own film, but they're an exhausting team when they're together in Fast and Furious Sequel. Their combats are full of screamed insults, macho posturing, and open threats about what the other may shove where.
In the series, there are no deep reflections about family and friendship, but the movie is full of scenes of the two attempting to establish who's the toughest guy. Finally, Hobbs and Shaw have a perplexing and senseless conclusion.
While going through all the Fast and Furious movies ranked in an order of worst to best, we found this one to be the least entertaining.
9. The Fate of the Furious (2017)
F. Gary Gray, loaded with money but short on new ideas, produced a lovely, properly operatic eighth installment with a couple of prominent opponents (Charlize Theron and Helen Mirren) but possibly the dumbest heel turn in contemporary film history.
It's that the franchise is so unsure of how to proceed after Paul Walker's death (and Furious 7's emotional conclusion), that it throws everything at the wall to see what sticks.
This includes casting a post-Mad Max: Fury Road Charlize Theron and turning Dom evil, which is intriguing at first but ultimately isn't worth leaving the crew without a compelling leader or a clear goal.
Every plot element feels like a separate film, and none of them add up to much except for a few memorable set pieces. The best scenes include Hobbs' and Shaw's prison break, a zombie car highlight, and Jason Statham's classical shootout carrying a baby around. Watch these Fast and Furious movies in chronological order and get a hold of what's happening in the series.
8. Fast & Furious (2009)
The fourth installment of the now-titled Fast Saga has a lot of ground to cover. Fast and Furious is the first true sequel to the original, with Vin Diesel opting out of the second and third films owing to poor scripting.
It's essentially a soft reboot, as it's far better at laying the groundwork for Fast Five than it is at capitalizing on the compelling dynamic between Brian and Dom established in the first film, and Michelle Rodriguez's Letty's early-film "death" casts a pall over the proceedings that never really lifts.
While it's good to see Brian and Dom back together, it's also silly to see the former dressed up in a suit and the latter dressed up as a Terminator-style angel of revenge, lacking none of the ringleader charisma that made him such a dynamic force in the previous picture.
It's difficult to envision the franchise as it is today without it, but on its own, it's one of the more cliched installments, and it's on number 8 on our list of Fast & Furious movies ranked from worst to best.
7. 2 Fast 2 Furious (2003)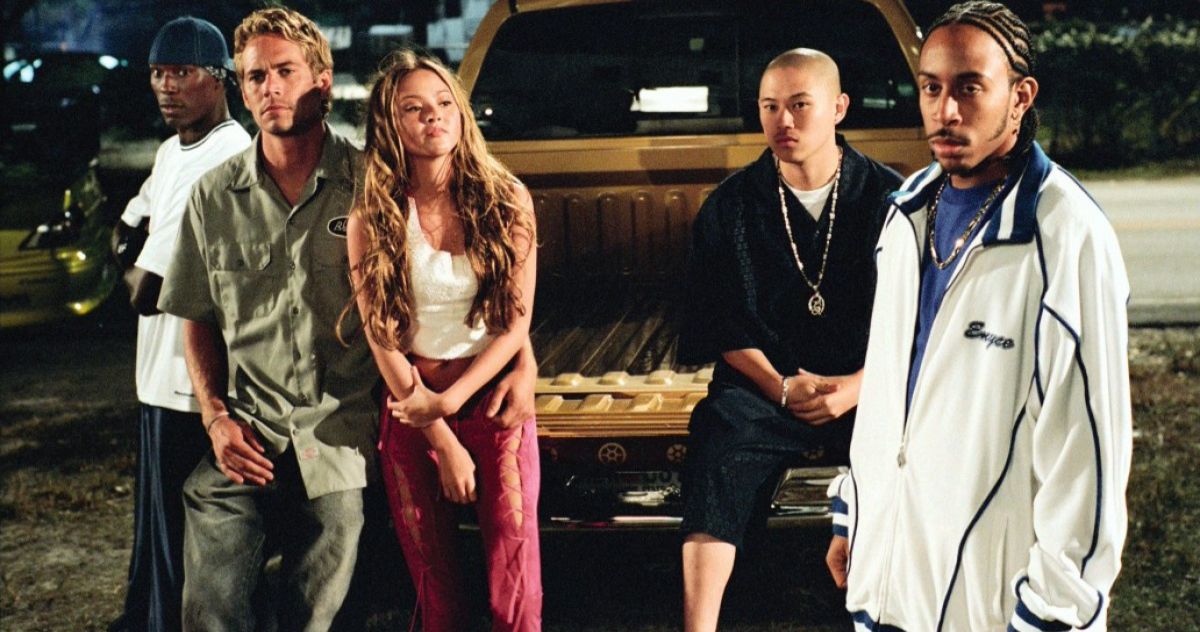 Few characters from the original chapter returned in 2 Fast 2 Furious, which meant Vin Diesel was notably missing. The first sequel imagines а universe in which the entire franchise revolves around Paul Walker portraying a SoCal himbo officer in a series of car-centric cop procedurals.
The biggest legacy of this picture is the introduction of Tyrese Gibson as Roman Pearce and Ludacris as Tej, two performances-turned-characters who survive their muddy, perplexing debuts here to reappear in subsequent films as the series' immensely charming version of a comedic relief combo.
The screenwriting in these films has never been stellar, but tagging Tyrese with the line "It's a ho-asis in here" is a stretch. That's not to mention the strange casting of Cole Hauser from Dazed and Confused as an Argentinean drug king, unquestionably the series' worst villain.
The late John Singleton (of Boyz n the Hood fame) directed 2 Fast 2 Furious, which uses a hyper-kinetic approach to transform the racing sequences into neon-drenched anime episodes.
On our list of Fast & Furious movies ranked from worst to best, this film is ranked seventh. The movie is available to stream on HBO Max and even if you are away from the US, you can still watch HBO Max in Australia with a VPN.
6. Fast & Furious 6 (2013)
One of the best things about the Fast and Furious franchise is that each movie completely reinvents itself for a little period of time. In a world of cookie-cutter studio films, it's amazing that the Fast and Furious franchise doesn't settle on formula until the sixth installment, Fast and Furious 6.
While that formula is ultimately good, having been established by the inimitable Fast Five, it's a bit of a letdown to see these films go into cruise control after all of the swervings and drifting.
While Gal Gadot's Gisele is tragically killed off, Michelle Rodriguez's Letty is thankfully resurrected in an amnesia plot. The movie is currently available to stream on Hulu and you can also watch Hulu in Australia with the help of a VPN.
5. F9: The Fast Saga (2021)
Justin Lin seized the wheel the last time the series seemed stagnated, with no new roads to explore, and brought it racing back to life. So following the low point of Fate of the Furious only he'd be the one waiting in the pit stop to refuel.
The last chapters in the Fast Saga start filming in January 2022, but F9 provides the series just the kick it needs to send it lurching into the finish line. The set pieces are bigger, louder, and (in the most literal sense) stupider than they've ever been, yet the heart remains intact. Even without Paul Walker and the Rock, there's still plenty of gas in the tank after 20 years.
You can watch F9: The Fast Saga on Amazon Prime from anywhere.
4. Furious 7 (2014)
For a generation who grew up watching the franchise, the tribute to Paul Walker that closes this chapter was quite emotional. Furious 7 was the most emotionally devastating film to ever take home the gold at the Academy Awards. It's a miracle that his death in the middle of production didn't cast a gruesome cloud over the entire finished result.
Paul Walker's death, through no fault of the filmmakers, casts a bittersweet melancholy over the onscreen adventures, as Brian's departure inadvertently highlights the series' shift away from the core elements that made it popular in the first place, much less the original cast members who were overshadowed by the likes of Statham and Dwayne Johnson.
Furious 7 is, on the contrary, essentially a victory lap for everyone involved. This film sees the franchise exercising all of its hard-won strength. We placed this movie on number 4 while creating this list of the Fast and Furious movies ranked from worst to best.
3. The Fast & the Furious (2001)
Although The Fast and the Furious isn't the series' best-made feature. And the director Rob Cohen directs the film in a messy yet effective manner. Despite this, it is well-made and is placed on 3rd number on our list of the Fast and Furious movies ranked from worst to best.
Rob Cohen's slick, fairly realistic original, an obvious imitation of "Point Break" set in the milieu of illicit street racing, couldn't possibly have predicted the crazy and improbable places this franchise would eventually go.
Cohen, on the other hand, lacks Kathryn Bigelow's skills as a filmmaker. He reduced the cat-and-mouse dynamic between undercover cop Brian O'Conner and enigmatic hijacker Dominic Toretto to unconvincing macho posturing.
The action is sparsely sprinkled throughout the film. The stunt work is incredible. For its day, the CGI is quite good too. It's not a family film, but it's also not a gory or naughty one. There is only a little swearing and violence in it. The rest of the actors also do an excellent job in their roles. The movie is available on Sling TV and with a valid subscription, and a premium VPN you can watch Sling TV in Australia as well.
2. The Fast and the Furious: Tokyo Drift (2006)
It is one of the franchise's best and most popular films. The sequel's major focus turned away from undercover cop antics, to an army dude who moved to Japan solely to learn how to drift.
If the outcomes weren't so wonderfully amusing, it would be an absurd movie that will put an end to the franchise. Lin inadvertently obliterated the franchise's chronology in one fell swoop, but he also codified a lot of the franchise's core elements going forward, not just in terms of cars, crime, and thrills, but also emphasizing a multicultural cast and taking the action to wherever in the world it can be most interestingly explored.
The Tokyo setting is lovely and evocative, and the cameo at the end is such a terrific cliffhanger that you can almost hear the remaining of the series heating up.
YouTube TV has a full collection of Fast and Furious movies and with a VPN you can watch Youtube TV in Australia as well!
1. Fast Five (2011)
Who doesn't enjoy a good heist movie? There are few greater arguments for an Oscar nomination for stunt artistry than "Fast Five." It's the series' apex — and action movies in general — during the last decade.
Lin elevates the finest film in the series by virtually ditching the street-racing premise of the previous films in favor of a slightly more generic, four-quadrant-friendly focus on international conspiracies.
The film begins with a beautiful train theft of a few cars, which leads to an even more breathtaking scenario in which a bank vault is thrown through the streets of Rio.  This is the best installment and placed as number 1 movie on our list of Fast and Furious movies ranked from worst to best. The movie is currently available on Canadian Netflix, you can change Netflix region and access it from anywhere around the world.
Wrapping Up!
All in all, if you don't like some of the installments of this wonderful series, even then you can not miss any of its upcoming sequels. Let us know in the comment section if you are agreed with this order of all 10 Fast and furious movies ranked from worst to best. Happy Streaming!