When it comes to the Best Voot Web Series, it might be challenging to discover high-quality material on a streaming platform that is just getting its foot in the door.
Voot may gain popularity sooner rather than later, thanks to series like Bigg Boss Season 16, Asur and Marzi. So, here are the best web series on Voot, a mix of Hindi (Bollywood) and English (American) programming on a relatively new OTT platform.
Although the platform is only available in India, you can still get access to Voot in USA with the help of the best Voot VPNs! 
---
Creator: Vikas Gupta
Cast: Shahab Khan, Shaleen Malhotra, Gautam Singh Rajput
IMDb Rating: 6.7/10
Seasons: 1
Many broadcasters have begun similar programs to combat crime. But the storyline of Code Red is the greatest. It had a unique storyline.
Code Red explores the human psyche to discover what drives people to alter their behaviour and hurt themselves and others.
Suicide, criminality against women and children, and other psychiatric problems are discussed in the presentation. According to the supplied scripts, different stars will appear in each episode.
The show's host, Sakshi Tanwar, will stay unchanged. Sakshi is a wonderful TV actress. She will educate the show's audience on human social ideals.
Weekly, six episodes focused on human frailties will be presented via three significant topics underneath the marketing umbrella of 'Code Red', Umeed – concentrating on tales of people who are on the approach of death.
Awaaz focuses on violence against women and children, whereas Chakravyuh focuses on physical and psychological entrapment. Sakshi Tanwar will portray the tales as the internal voice and the voice of sanity. If you have not subscribed to the Voot, we would recommend you to first give yourself a try with Voot Free trial in order to cater your streaming needs.
---
Creators: Shashant Shah
Stars: Rishab Chadha, Akash Ahuja, Abhinav Verma
IMDb Ratings: 7.5/10
Season: 1
Neil, Nitin, and Mukesh's lives are shown in the Voot web series, filled with turmoil and drama. These three buddies embark on an adventure to learn more about the startup sector and their ideas for becoming party planners in Delhi.
They are on their way to experiencing an unexpected delight at one of the Big Fat Indian marriage ceremonies. Check out the web series to find out what happens when the bride-to-be is infatuated with one of the three males attending the wedding.
As the protagonists learn more about Indian weddings, the tale is full of twists and turns that will make you shocked as you follow their journey. If you were on a free trial, and now you are wondering to get Voot subscription in USA, then we have got you covered with that!
---
Creator: Baljit Singh Chaddha
Stars: Jennifer Winget, Tanuj Virwani, Aalekh Kapoor
IMDb Rating: 7.1/10
Season: 1
Major Monica sets out on a mission to find the person responsible for the attempted murder of the Deputy CM. As the stunning reality is uncovered, a seemingly simple case becomes even more complicated!
---
Creator: Ashima Chibber
Stars: Parth Samthaan, Niti Taylor, Charlie Chauhan
IMDb Ratings: 7.9/10
Seasons: 3
Ayaz Ahmed, Utkarsh Gupta, Charlie Chauhan, Neeti Taylor, Parth Samthaan, and many more actors and actresses have given us huge adolescent life aspirations in the form of a large 8.7 rating on IMDb.
One of India's most popular television programs is about the S.P.A.C.E. Academy's most successful music band, Fab5, and two new ladies, and how they overcome the obstacles that Fab5 throws at them. A lot of young people are enjoying this best web series on Voot, not only in India but all around the world including Voot in UAE, through reliable VPN.
---
Creator: Nikhil Bhat
Stars: Sanjay Kapoor, Arjun Mathur, Shweta Tripathi
IMDb Rating: 7.8/10
Season: 1
Sahil Gujral is reported missing in the middle of a pandemic outbreak. Initially believed to be a sufferer of the Coronavirus, his death has now been linked to an unexplained crime.
Unknown forces are at work in the wake of a worldwide epidemic, a country under lockdown, and a mysterious disappearance among it all.
Sahil Gujral is no longer alive. Did he become a victim of the virus? Is it possible that something more nefarious is at work? The year 2020 has altered the course of history, but for the Gujral clan, the horror has just recently started.
The Gone Game, a Voot Select Original, will be available to watch on August 20. A Covid-19 scenario has arisen, and the Gujrals have just experienced a phase that will be dreadful for them.
Although Sahil Gujral is no longer alive, there remains an issue. Although it is not certain if the death was caused by the Corona Virus or by a homicide, What is the underlying cause of the death? Is he still living, or has he passed away?
---
Creators: Apoorva Lakhia
Stars: Saqib Saleem, Shriya Pilgaonkar, Iqbal Khan
IMDb Rating: 7.4/10
Season: 1
With an IMDb rating of 7.5, Voot's original is about a hidden gadget unit and a scheme that is as dark as it can be in a world where a thousand lives may be lost in an instant.
To defeat the adversaries, the secret agent RP has assembled a squad. Do they think they'll be able to destroy the danger before it destroys them, given their little time?
Find out by watching now. Saquib Saleem, Shriya Pilgaonkar (who has shown herself to be a remarkable actress via her performance in the most popular series, Mirzapur), and Iqbal Khan are among the cast members. It's a must-see series and included in the best Voot series list.
---
Creator: Dhruv Deshpande
Host: Anahita Shroff
IMDb Rating: 5.0/10
Season: 2
It is hosted by Anahita Shroff Adajania, who is known for hosting a fantastic and greatest Voot web series where celebs are seen in their usual dress in the comfort of their own homes and bedrooms.
The teaser begins with the phrase "coffee, sofas, and spilled beans… that's so last year," which implies that she will approach things differently.
Through these revelations, hush-hush conversations, and other activities, the series becomes more relaxing, entertaining, and interesting. Get in touch with your favorite celebrity right now.
---
Creator: Samannay Saha
IMDb Rating: 9.3/10
Seasons: 1
A reality show in which rappers from various sections of their nation compete against one another to determine who is the greatest hustler is now airing.
No less than Raftar, one of India's most well-known rappers, Nucleya, the pioneer of electronic dance music in India, and Raja Kumari, the undisputed queen of the Indian hip-hop scene, assess the rappers in this competition. This is a must-see best series on Voot.
---
Creators: Aditya Sarpotdar
Stars: Atul Kulkarni, Ashwini Bhave, Parul Gulati
IMDb Ratings: 7.1/10
Seasons: 1
A rich family's youngest kid has been discovered dead, but the authorities have ruled out the idea of suicide. As they begin to look into the family members, nasty truths begin to surface.
Naik Raikar family in Bicholim hamlet in Goa, where 16-year-old Tarun Raikar commits himself as the youngest family member. The Naik Raikar family is well-known for their enlarged cashew manufacturing company.
Although the family's patriarch, Yeshwant, is set to join politics, his daughter Etasha holds herself responsible for Tarun's death, claiming that she failed to answer his calls when he passed away.
As part of his investigation, Inspector John Pereira discovered that Tarun's father, Vinayak, and Yeshwant's older brother, Vinayak's daughter Trupti, perished in a vehicle accident a few years ago and that Tarun did not admit suicide but was killed.
Every member of the Naik Raikar family is suspicious because secrets are concealed inside them, and they are all suspects.
---
Creators: Sahir Raza
Stars: Neha Sharma, Piyush Mishra, Akshay Oberoi
IMDb Rating: 8.2/10
Season: 2
Known for its Piyush Mishra starring, Justice, Out of Order has earned a 7.3 rating on IMDb, indicating that the movie has gained widespread popularity among viewers.
An idealistic lawyer finds himself entangled between two cases in the murky world of crime and corruption to demonstrate how out of control our legal system can be.
In India, one is the death sentence for female offenders, while the other is sexual harassment on the job. No one could foresee how stressful the hearing would have been. In their respective roles, Neha Sharma and Akshay Oberoi have excelled.
---
Creator: Anil Senior
Stars: Rajeev Khandelwal, Aahana Kumra, Vivek Mushran
IMDB Rating: 7.2/10
Season: 1
As the title indicates, this Voot exclusive has some major storyline twists and turns. It is the story of two individuals, Anurag and Sameera, who embark on a date that turns out to be a very unbelievable day of their life.
Because they have their separate accounts of what occurred that night, when the truth is challenged, falsehoods are discovered, sending the reader into a tizzy. It has climbed to number 7.1 on the IMDb list, thanks to the presence of Rajeev Khandelwal and Aahana Khurana.
---
Creator: Kaushal Punjab
Stars: Kushal Punjabi, Priyansh Jora, Vrushika Mehta
IMDb Rating: 7.5/10
Season: 1
Even though Tamanna and Dhruv are in love, Tamanna suddenly vanishes shortly before their departure to London with Dhruv. The whole plot centers on Dhruv's investigation into the subject to find an answer.
What occurs when one of two individuals in love goes missing is the subject of this story. Will the other person discover love, and if so, how far are they ready to go to find it? An IMDb rating of 8 has been given to this psychological thriller. It is unquestionably a must-see best Voot web series.
---
Creators: Danish Aslam
Stars: Sarah Jane Dias, Tahir Raj Bhasin
IMDb Rating: 7.1/10
Season: 1
The plot centres on the lives of Rahul and Radha, who are happily married and attempting to cope with the unexpected pregnancy that has occurred in their family.
The episodes vividly illustrate the early stages of midlife crisis and the difficulties of conforming to societal expectations. Rahul, played by Tahir Raj Bhasin, and Radha, played by Sarah Jane Dias, deal with the same challenges that we all deal with daily in our lives.
They are a normal, paid couple juggling life between lousy employment, large E.M.I.s, unsatisfying environments, and other obligations.
According to him, Rahul has no desire to have children and is dissatisfied with his wife, his career, and anything else that millennials typically complain about today.
A method to "pause" or "timeout" the scenarios is what he is searching for right now. Because the series is realistic and entertaining, it may be called one of the greatest Voot web series available online.
---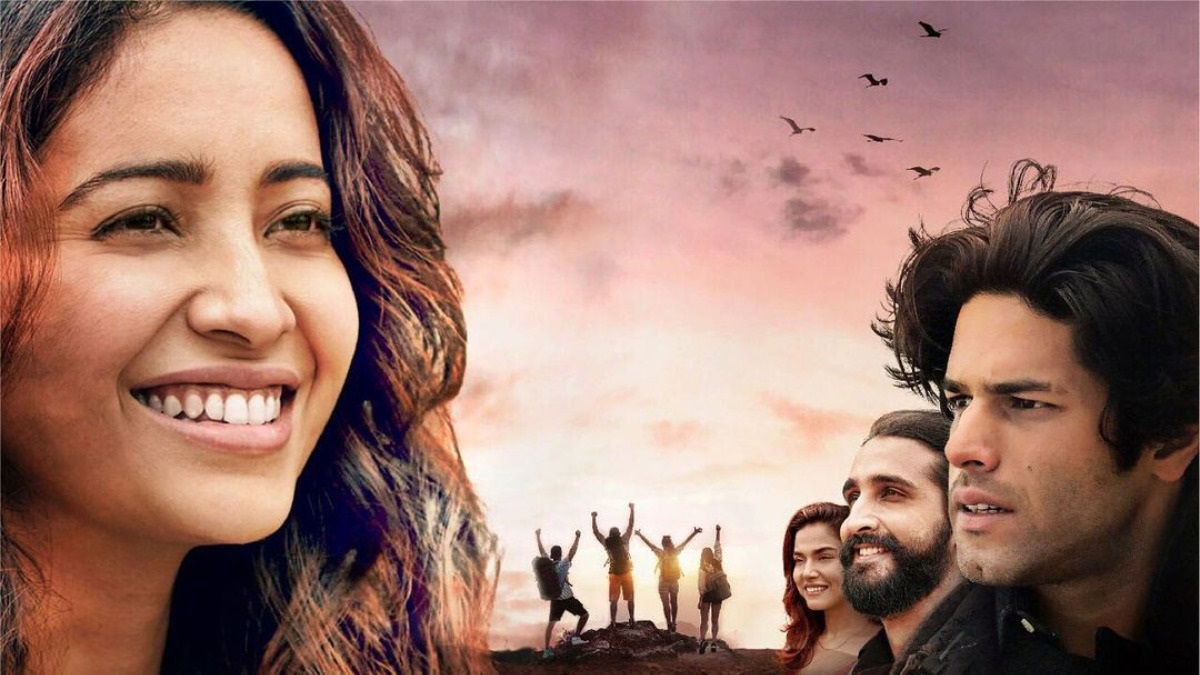 Creator: Amandeep Ahluwalia
Stars: Tushar Sharma, Oz Malik, Asha Negi
IMDb Rating: 7.6
Season: 1
To complete her once-in-a-lifetime road journey across Australia, Bindiya has persuaded her closest friends to join her. What makes Bindiya, Megha, and Dixit's caravan-cruising Australian experience all the more fascinating is that they are traveling with a friend.
Aakash, a quick-witted and eccentric hitchhiker who joins them on their journey from Melbourne to Perth, provides comic relief. Watch as they travel through breathtaking scenery, and the enjoyable journey transforms into a chance to mend scars, fall in love with life, and overcome their darkest fears.
In this short series of six episodes packed with drama, the wild youngster Bindiya invites her pals to join her on an epic road journey throughout the whole country of Australia.
The series is a Voot original with a 7.6 rating on IMDb. Watch the series now to see how it unravels their deepest fears and helps them find who they are.
---
Creator: Shraddha Pasi
Stars: Plabita Borthakur, Anupriya Goenka, Naveen Kasturia
IMDb Rating: 6.2/10
Season: 1
The film, which stars Tanuj Virwani, Satarupa Pyne, and Madhurima Roy, explores the many shades of passion, desire, and love that exist.
It is predicated on dreams that individuals would not usually talk about in public places. Tahir, the male protagonist, meets Leela and Kiara, his closest friends, while on a hitchhiking journey. The two become fast friends.
Three of them love spending time together while learning about the other side of life that they were unaware of during their normal days. As one of the top Voot web series, it depicts all of the scenarios that people wish they might experience in their lives. This is one of the best web series on Voot.
---
Creator: Danish Aslam
Stars: Vivan Bhatena, Karanveer Mehra, Swara Bhaskar
IMDb Ratings:
Season: 2
Females these days are not content to remain silent and continue their exploration of the abyssal. The girls have been exposed to captivity and different forms of abuse, and they are the people who are supposed to make the ultimate sacrifice at all times.
This web series is based on the life of Mira, who is embarking on a path of self-discovery and breaking the patriarchal bonds in the process. In the Voot web series, the narrative is straightforward, but there are enough twists to demonstrate how life can get complex when the past comes knocking while dealing with the present.
The series has Swara Bhaskar as the major character, imprisoned in the monotony of everyday married life.
---
Creator: Gaurav Shukla
Stars: Arshad Warsi, Barun Sobti, Anupriya Goenka
IMDb Ratings: 8.4/10
Seasons: 1
Two conflicting worlds are pitted against one other in this one-of-a-kind criminal thriller. The lesser-known, sophisticated realm of forensic science and the profound mysticism of ancient Indian mythology are examined in this book.
There is a psychopath murderer on the loose who follows a perverted worldview rooted in Indian mythology. Two forensic investigators from the C.B.I. are working together to apprehend a serial murderer, but they find themselves in a terrifying predicament due to a twist of destiny.
What will be the outcome of this? Is the true identity of this A.S.U.R. going to be revealed? Asur is the first online series on the finest Voot web series list.
The crime drama web show starring Arshad Warsi, with an 8.5 IMDb rating, tells the narrative of a serial killer with religious links, and it is the most heart-stopping series on the internet. Suspense, mystery, and murders are all well blended in this novel.
---
Creator: Vipul D. Shah
Stars: Sanjeev Tyagi, Nissar Khan, Devika Sharma
IMDb Rating: 8.1/10
Season: 1
A legal and crime web series presented by Vipul D. Shah this original top-Voot series is centred on law and crime. True events are portrayed by a variety of performers who, in their manner, attempt to bring the happenings to light.
In addition to being entertaining, the episodes expose several harmful notions prevalent in our culture. High-quality crime scenes and various concerns are presented in the courtroom.
The channel features everything from #metoo movements to high-profile frauds and murder mysteries, all in one place. For some exhilarating adventures, watch the episodes.
---
Creators: Debojit Das Purkayastha, Agrim Joshi
Stars: Ronit Roy, Richa Chadha, Manu Rishi Chadha
IMDB Ratings: 8.4/10
Seasons: 1
Candy is one of the best series available on Voot. After a horrible murder of a school kid forces disturbed teacher Jayant Parekh and police officer Ratna Sankhawar to uncover a labyrinth of deadly secrets, including rave parties, cold cases, a monster in the woods, and a psychedelic known as Candy, they must work together to find the killer.
Two outsiders, an agonizing teacher, and a corrupt officer are forced to put their differences aside to find the perpetrator of a brutal high-school student murder in Rudrakund.
In their investigation, they learn about the town's dark history and come face to face with a terrible drug ring. These hills are awash in legends of a demonic entity, and the team must contend with the likelihood that either a man or a beast is responsible for the murders in question.
---
Creator: Ashima Chibber
Stars: Naveen Polishetty, Shiv Panditt, Meiyang Chang
IMDb Ratings: 7.6/10
Seasons: 1
Social networking is the most popular medium to communicate with others in modern days and times. Individuals are out there attempting to persuade everyone else, whether it's via Instagram stories, Facebook posts, or Snapchat snaps.
A person's attributes or qualities are described by the tags left behind by this civilization. Eventually, such labels become poisonous, and the series depicts the experiences of six individuals who have had critical labels placed on them by the larger community.
Among the finest online programs for young adults, it encourages viewers to embrace themselves. How these six individuals battle against the obstacles and fail to admit what life tosses at them is shown in Untag.
They are subjected to being labeled obese, bitch, cunning, maneater, queer, and other derogatory terms to being objectified in various ways. This weekend, keep an eye out for some inspiration and play desi Voot. If you tired of watching Voot content, you can always cancel Voot subscription anytime.You can also watch other popular content such as Asur season 2, Bloody Daddy , Saavi Ki Savaari and many more from all over the World.
---
Recommended Shows To Watch On Voot In July 2023:
Conclusion!
Above is a list of some best series on Voot to watch in 2023 in USA. Make sure to connect to a reliable VPN provide to access Voot in USA.
You can also check out the best Voot movies that will make you speechless once you begin binge-watching them.