Lauren Cohan of The Walking Dead wants the show to finish with a time leap. As they enter a world populated by zombies, the post-apocalyptic horror series follows different protagonists. The show has both excited and terrified audiences since the debut of The Walking Dead in 2010; its continuing success has led to over 140 episodes, as well as several spin-offs loaded with zombies.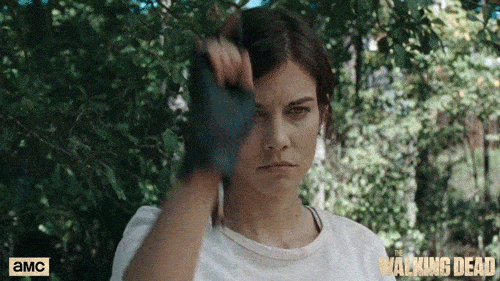 AMC was forced to shift the season 10 final of The Walking Dead from April to October due to the continuing COVID-19 pandemic and delays affecting post-production. In addition, season 10 will have an additional six episodes, entitled "A Certain Doom," which will continue the aftermath of the original finale. While this ensures that season 11 will not air for quite some time, the additional season 10 episodes will help tie up several loose ends, as well as possibly explore the return of Maggie Rhee.
Cohan, who portrays Maggie, reveals in an interview with NME that she would want The Walking Dead to end with a "40-year time leap." Cohan explains her dream final scene for Maggie, saying that before a shot zooming out shows a wizened Maggie and the world she lives in, she would want a close-up of "elderly hands." You can see the complete quote from Cohan about her dream ending below for her character:
"It would be really, really fun if we got to do a 40-year time jump. You sort of peel back and start on a close-up of some very elderly hands and it takes a minute to figure out whose they are. Once you realize whose [hands] they are, where they are and where the world is now and what that means and who's with her… maybe it's her final days. Maybe she doesn't die by a zombie? That's an idea."
The return of Maggie is arguably one of the key reasons why viewers for the remainder of season 10 are excited. In season 9, Maggie quit the show to join Georgie in their enigmatic settlement. Yet Maggie is seen reading a letter from Carol in a trailer for 'A Certain Doom,' who writes about the dire straits in which her friends are. As a result, this encourages Maggie to take action, where the episode in which she swoops in to save Gabe from a horrible end in the Whisperer War shows it.
Maggie's return is a sigh of relief for many viewers, especially given the clunky, heavy-handed way she was written off. Although it's unclear how big a part Maggie will play in season 10's remaining episodes, her presence alone is enough to hype fans up. That said, Maggie Rhee was not written on a whim out of The Walking Dead. Instead, Cohan's pay conflicts with producers, as well as Cohan's role in the ABC show Whiskey Cavalier, possibly played a role in her departure, too.
Nevertheless, with payment disputes supposedly resolved and Whiskey Cavalier canceled after just 13 episodes, it seems that Cohan wanted to return to The Walking Dead's second home. Although it remains to be seen if Cohan can get a huge time jump to her desired end, it is safe to say that fans are more than pleased to see Maggie back in action today.