Struggling to find the best movies on Netflix UK to watch right now? We know how problematic it can be when you have the enormous Netflix catalog in front of you, and you can't decide which title you should watch next.
Hence, we take it on ourselves to dig out some of the best movies that'd swept streaming addicts off their feet. Do you want to know what is the best movie on Netflix at the moment?
Our list of best movies on Netflix UK entails everything, from twisted storylines of psychological thrillers like The Platform to satirical comedy like The Two Popes and The Death of Stalin, so choose your favorite and start streaming right away.
Director: Vince Marcello
Writers: Vince Marcello, Beth Reekles
Stars: Joey King, Joel Courtney, Jacob Elordi
You can watch all three parts of Netflix's most famous teen drama and cult classic comedy movie on Netflix, The Kissing Booth.
Elle and Lee have graduated high school and it's time for them to pick a college before summer begins, and for Elle, she has a tough decision to make.
Either follow Rule #18 and study in Berkley with Lee or spend the rest of her life in Harvard with Noah, the love of her life.
Recommended: Best Romantic Netflix UK movies
---
Director: Brian Andrew Mendoza
Writers: Gregg Hurwitz, Philip Eisner
Stars: Jason Momoa, Isabella Merced, Manuel Garcia-Ruflo
The movie is about a family man Ray Cooper who fights against a pharmaceutical company for pulling a life-saving drug from the market right before the death of his wife because of cancer. His yearning for putting the responsible behind bars leads him to uncover dirty secrets. Due to which his and his daughter's life is at stake now. He must find a way to fight off the evil and save his only family left, his daughter.
---
Blinded by the Light(2019)
Director: Gurinder Chadha
Writers: Sarfraz Manzoor, Gurinder Chadha, Paul Mayeda Berges
Stars: Billy Barratt, Ronak Singh Chadha Berges, Viveik Kalra
This lovely film, based on writer Sarfraz Manzoor's childhood novel Greetings from Bury Park, portrays the coming-of-age narrative of a young Muslim man in the 1980s.
The young boy finds his voice through the music of the American idol Bruce Springsteen. The film is a spectacular and exciting crowd-pleaser with a fantastic soundtrack
Recommended: X Men Movies in Order in UK
---
Director: Martin Scorsese
Writers: Laeta Kalogridis(screenplay), Dennis Lehane(novel)
Stars: Leonardo DiCaprio, Emily Mortimer, Mark Ruffalo, Michelle Williams
Suspense no one saw coming, not even a single bit.  Set in 1954, Teddy Daniels (Leonardo DiCaprio) and Chuck Aule (Mark Ruffalo), two US Marshalls, are investigating a potential murder in an asylum on a remote island only to find shocking revelations about the asylum itself.
Recommended: Best Suspense Netflix UK movies
---
Director: Michael Fimognari, Susan Johnson
Writer: Sofia Alvarez, Jenny Han
Stars: Lana Condor, Noah Centineo, Janel Parrish, Anna Cathcart, Madeleine Arthur
All The Boys is the most popular movie on Netflix, the trilogy is a coming-of-age story; based on the New York best seller by Jenny Han.
The trilogy starts with Lara Jean and the 5 un-posted love letters that she wrote in grade 5 for her crushes. Until they mysteriously find themselves in the hand of their recipients, leaving Lara-Jean's dirty laundry out in the open.
But there's a plot twist, one of the recipients is her sister's boyfriend. The walls are closing in on Lara-Jean. Will she be able to get herself out of this situation and find the love of her life in the city?
Recommended: Best Drama Movies on Netflix
---
Last Christmas(2019)
Director: Paul Feig
Writers: George Michael, Emma Thompson, Greg Wise
Stars: Madison Ingoldsby, Emma Thompson, Boris Isakovic
For Kate, an unsatisfied young girl from London who works as an elf in a year-round Christmas shop, nothing seems to go right. But things quickly improve when she meets Tom, a dashing charmer who appears too good to be true. Tom and Kate's increasing desire develops into the best gift of all — a Yuletide romance — as the city transforms into the most delightful time of the year.
Recommended: Best Mystery Movies on Netflix
---
Director: Ariel Vromen
Writers: Douglas Cook, David Weisberg
Stars: Kevin Costner, Ryan Reynolds, Gal Gadot
Transferring the memory of a deceased CIA agent into a violent and unstable prisoner may seem far-fetched and ridiculous, but it's entertaining to watch Kevin Costner go insane as this character!
---
Director: Bong Joon Ho
Writers: Bong Joon Ho, Jon Ronson
Stars: Tilda Swinton, Paul Dano, Seo-hyun Ahn
A foreign movie that highlights animal brutality and capitalism, crashing on people's emotions as they spend 10 years raising and feeding a breed of "Super Pig" only to be taken away by insensitive corporate companies for slaughter. But Mija, the sole caretaker of Okja, the super pig, will not back down so easily. And so she sets out to rescue her only best friend and companion for 10 years from the hands of the vicious Mirando corporations.
---
Director/Writer: Castille Landon
Stars: Katherine Heigl, Harry Connick Jr., Madison Iseman
The movie is one of the scariest movies on Netflix and it is about a woman named "Michelle" who has Schizophrenia. Her day-to-day life is full of struggles due to the terrifying hallucinations she experiences. However, things started going downhill when these hallucinations become severe, and she begins suspecting her neighbor of abducting a kid. The only person who believes her is Caleb- a young boy, but she is unsure if he exists.
---
Director: Simon Stone
Writer: Moira Buffini, John Preston
Stars: Carey Mulligan, Ralph Fiennes, Lily James
The Dig represents a time of uncertainty and fear just before WW-II England. It is about discovering a ship from the dark ages and quarrels over who owns it. Although it's not an enigmatic thriller or a light-hearted comedy movie, it is worth watching. The director and Actors have nailed their roles flawlessly.
---
Director: Martin Scorsese
Writers: Steven Zaillian
Stars: Robert De Niro, Al Pacino, Joe Pesci
Based on the 2004 Non-fiction book, "I Heard You Paint Houses," the story revolves around Frank Sheeran (Robert De Niro), a truck driver who began working as a hitman for Russel Bufalino and made acquaintances with the influential American Union Labour leader, Jimmy Hoffa played by the legendary Al Pacino.
Recommended: James Bond Movies to watch in UK
---
Director: Benny Safdie, Josh Safdie
Writer: Ronald Bronstein
Stars: Adam Sandler, Julia Fox, Idina Menzel
One of Adam Sandler's best performances as an American-Jewish jewelry store owner and an impulsive gambler who has risked his whole existence to pay off his debts and keep himself afloat in a hostile world.
---
Director: Ethan Coen, Joel Coen
Writers: Joel Coen, Ethan Coen
Stars: Tim Blake Nelson, Willie Watson, Clancy Brown
A compilation of six short stories set in the old west during the 19th century. An amusing set of stories with a ton of humor and title character building. The Ballad of Buster Scruggs is an accurate depiction of the mercy less Old West.
---
Director/Writer: Alfonso Cuarón
Stars: Yalitza Aparicio, Marina de Tavira, Diego Cortina Autrey
A tale of togetherness, love, and family, Roma is an accurate depiction of Mexico in the 70s and the struggling lives of Sofia and her abandoned children. But she has Cleo, a domestic house-help who is there for her during her tough times when Sofia's own husband leaves her.
---
Director: Susanne Bier
Writers: Eric Heissere, Josh Malerman
Stars: Sandra Bullock, Trevante Rhodes, John Malkovich
A post-apocalyptic psychological thriller with a foreign force engulfing the planet, and the only way to counter it is not seeing it. If you do, your worst fears may come alive. They must cover their eyes to fight the foreign force, which may seem impossible, but the only possible solution.
---
Director: Barbara  Bialowas, Tomasz Mandes
Writers: Tomasz Klimala, Tomasz Mandes, Barbara Bialowas
Stars: Anna Maria Siekucka, Michele Morrone, Bronislaw Wroclawski
The erotic drama is about Massimo, a young boss of the Sicilian Mafia, who has to take over after his father has been murdered. He falls in love with Laura who is vacationing in Sicily. Laura has no idea that Massimo will abduct her, hold her captive and grant her 365 days to fall in love with him.
---
Director: Spike Lee
Writers:  Danny Bilson, Paul De Meo, Kevin Willmott
Stars: Delroy Lindo, Jonathan Majors, Clarke Peters
An American War Drama about 4 African-American vets who come back looking for the gold they buried but with no roadmap to follow, as all the recognizable landmarks are destroyed after an airstrike. Da 5 Bloods is Chadwick Bosman's final movie that was released before his death in August 2020.
Recommended: Best War Movies on Netflix
---
Director: Gina Prince-Bythewood
Writers: Greg Rucka
Stars: Charlize Theron, KiKi Layne, Matthias Schoenaerts
All hell breaks loose when a group of century-old, self-healing immortal mercenaries find their secret out in the open, along with an unexpected addition to their now exposed coven. All must be done to save the integrity and the freedom of their kind, even if it means taking a drastic decision.
---
The Mule (2018)
Director: Clint Eastwood
Writers: Nick Schenk
Stars: Clint Eastwood, Patrick L Reyes, Cesar De Leon
The story is about a 90-year-old man Earl Stone, who is alone, broke, and facing the foreclosure of his business. Amidst all this, Earl is offered a job that requires him to drive only.
But  Unknowingly, he becomes a part of a drug courier for a Mexican Cartel. Meanwhile, Agent Colin Bates gets to know about the new mysterious drug mule, hitting the market, and begins a mission of cracking down on the criminals behind it.
---
Director/Writer: Dan Gilroy
Stars: Jake Gyllenhaal, Rene Russo, Bill Paxton
Once a petty thief, Louis Bloom submerges himself in the crime reporting world of LA, defying all ethics of journalism and going knee-deep in the dark and dingy world of criminal activities until he forgets his own identity and ethics of crime reporting altogether. A movie that will run shivers down your spine, and amongst the best movies in the thriller category.
---
Official Secrets (2019)
Director: Gavin Hood
Writers: Sara Bernstein, Gregory Bernstein, Gavin Hood
Stars: Keira Knightley, Matt Smith, Mathew Goode
Official secret is a story based on true events. A British spy Katherine Gun, whose sole duties were to handle classified information, received a strange memo in 2003. The US enlisted Britain's help in collecting compromising information on United Nations Security Council members and ultimately forcing them to vote in favour of an invasion of Iraq. Gun decides to defy her government and leaks the memo to the press, putting herself and her family's lives at stake.
---
Director: Jesse V. Johnson
Writer: Jesse V. Johnson and Stu Small
Cast: Scott Adkins, Craig Fairbrass, Thomas Turgoose, Nick Moran, Kiersten Wareing
Everybody sees what a serial killer does but nobody wonders why he does so. A serial killer escapes prison and punishes everyone who he thinks is responsible for his condition.
---
Director: Harry Bradbeer
Writers: Jack Thorne
Stars: Millie Bobby Brown, Henry Cavill, Sam Claflin, Helena Bonham Carter, Louis Partridge
Sherlock Holmes has a little sister, who is as sharp and as witty as her older brother, and she uses these wits against him when she is in search of her missing mother and trying to help a runaway lord escape murder. A fast-paced and exciting watch with a refreshing message regarding individuality and women empowerment.
---
Director: Dominic Cooke
Writer:Tom O'Connor
Stars: Benedict Cumberbatch, Merab Ninidze, Rachel Brosnahan
The movie tells a true story of a British Businessman who is unintentionally recruited in one of the greatest international conflicts.
He hopes to prevent a nuclear confrontation with the help of a Soviet officer. Both men worked together to provide the intelligence required to defuse the Cuban Missile Crisis.
Recommended: Fast and Furious Movies (All Parts)
---
Director: Mike Flanagan
Writer: Stephen King
Stars: Carla Gugino, Bruce Greenwood, Chiara Aurelia
As delightfully gruesome as it may seem, Gerald's Game is something that you will come back to for its thrill and the profound psychological aspects revolving around the men involved in Carla Gugino's past and present life. An adaptation of Stephen King's novel, Gerald's Game, is a promising and amazing horror movie on Netflix.
---
Director/Writer: Keith Thomas
Stars: Dave Davis, Menashe Lustig, Malky Goldman
A young man provides an overnight watch to deceased who was a member of his former orthodox community. During the night, he finds himself fighting against a mysterious evil force. The uncanny flick entails all the characteristics of a blockbuster horror movie and is worth a watch.
---
Steve Jobs (2015)
Director: Danny Boyle
Writers: Aaron Sorkin
Stars: Michael Fassbender, Kate Winslet, Seth Rogen
Nobody is perfect, not even the CEO of one of the biggest companies in the world, Apple. This biographical drama accurately depicts what life is like for a man like Steve Jobs and what personal setbacks and hardships a man of his stature must endure in bringing his company amongst the industry's top names.
---
Director: Karyn Kusama
Writers: Phil Hay, Matt Manfredi
Stars: Logan Marshall-Green, Emayatzy Corinealdi, Michiel Huisman
An invitation with a sinister motive? That's what Will thinks as he gets invited to his ex-wife's house for a get-together.
The air is filled with skepticism; is something nasty going to happen, or is it just his paranoia and grief of his broken family making him think this way. There is a lot to digest in this American thriller, so buckle up as you press that play button.
---
Rocketman

(2019)

Director: Dexter Fletcher

Writer: Lee Hall

Stars: Taron Egerton, Jamie Bell, Richard Madden

The movie is a rock biopic about Elton John and his struggles to become the international superstar from a shy pianist.  If you know nothing about this Superstar, you must watch this movie to know the legend.
---
S
piderman: Far From Home(2019)
Director: Jon Watts
Writers: Chris McKenna, Erik Sommers, Stan Lee
Stars: Tom Holland, Samuel Jackson, Jake Gyllenhaal
Peter Parker enjoys his vacation in Europe when Nick Fury bangs on his hotel room door and asks for his help in an urgent mission against four massive creatures made up of elements. Each representing water, earth, air & fire emerged from a hole, hell-bent on destroying the universe. Parker puts on his superhero suit and decides to help Fury and his ally superhero Mysterio fight off the evil elemental creatures.
---
Director/ Writer: Quentin Tarantino
Stars: Jamie Foxx, Christoph Waltz, Leonardo DiCaprio
A Tarantino classic, where Django, a free slave, is helped by a German bounty hunter in tracking down his wife, who was captured and sent to a brutal plantation owner's farm for slavery. Django Unchained is a pretty violent movie, so a strict disclaimer before watching it is a must.
---
Director/ Writer: Aaron Sorkin
Stars: Jessica Chastain, Idris Elba, Kevin Costner
The movie is based on the true story of the Olympic-class skier Molly bloom's life. She ran the high-stakes poker games for almost a decade and earned crazy amounts of money. But unfortunately, she ended up getting arrested by 17 FBI agents in the middle of the night. Her players were members of the aristocracies, including Hollywood stars, sports stars, business tycoons, and even the Russian mob.
---
Director: Jenny Gage
Writers: Susan McMartin
Stars: Josephine Langford, Hero Fiennes Tiffin, Khadija Red Thunder
The movie is a visual adaptation of Anna Todd's novel, After. Tessa is a dedicated student, an obedient daughter, and a loyal girlfriend to her high school sweetheart. However,  her world falls apart when she meets Hardin Scott, a dark, mysterious and magnetic rebel who makes her question everything.
---
Director/Writer: Noah Baumbach
Stars: Adam Driver, Scarlett Johansson, Julia Greer
A detailed retrospect of what goes into a brutal divorce and how most families struggle to keep their family intact while uncoupling themselves from years of togetherness, shared moments, and countless mixed memories. Marriage Story is one of the best Netflix movies and it's not just a movie it's an emotional story. The role of Adam Diver has been admired in mainstream media.
---
About Time (2013)
Director/ Writer: Richard Curtis
Stars: Domhnall Gleeson, Rachel McAdams, Bill Nighy
What would you do if you find out that you can travel back in time? For Tim, it's getting the girl of his dreams and creating a beautiful and happy bond with his family. A beautiful movie with a beautiful message of togetherness, About Time will undoubtedly make you teary-eyed in the end.
---
Director: Michael Mathews
Writers: Brian Duffield
Stars: Dylan O'Brien, Jessica Henwick, Michael Rooker
Seven years following the monster apocalypse, Joel and everyone else has been living under the ground. The monsters have captured the Earth, and it is no longer a place to live. However, Joel somehow reconnected with his high school sweetheart Aimee, who is 80 miles away. Joel suddenly realizes that there is nothing left for him underground. So he goes out to find Aimee, overlooking the fact that monsters are scattered across the Earth.
---
Director: Dee Rees
Writer: Virgil Williams
Stars: Jason Mitchell, Carey Mulligan, Jason Clarke
It's a hearty and raw tale of what it's like to live a life as a world war II survivor and deal with racism while battling demons of their own in a nearly dead farm in rural Mississippi.
---
The Prestige (2006)
Director: Christopher Nolan
Writer: Jonathan, Christopher Nolan, Christopher Priest
Cast: Christian Bale, Hugh Jackman, Scarlett Johansson
The Prestige is a 2006 British-American psychological thriller directed by Christopher Nolan. The screenplay was adapted by his brother Jonathan Nolan from Christopher Priest's 1995 novel of the same name. The story follows Robert Angier and Alfred Borden, rival stage magicians in London at the end of the 19th century who engage in competitive one-upmanship with tragic results.
---
Director/Writer: Kirk DeMicco
Stars: Lin-Manuel Miranda, Ynairaly Simo, Zoe Saldana
Vivo and Andres are the best duos because of their common love for music. Although they don't understand each other's language, they love to perform to the crowds in a busy square. However, Andres receives a letter from Marta Sandoval, inviting him to her farewell concert. So now Vivo has to deliver a love letter to Marta that Andres wrote long ago in the form of a song. This movie is by sony pictures animation.
---
Director: Ron Howard
Writer: Peter Morgan
Stars: Daniel Brühl, Chris Hemsworth, Olivia Wilde
This film is truly a gem. Daniel Bruhl's portrayal of Niki Lauda is so convincing that you almost believe you're witnessing the real Lauda.  The movie is more focused on Niki Lauda (Daniel Bruhl) than James Hunt (Chris Hemsworth), which is surprising given the film's Thor-themed marketing. The ferocity of Lauda and Hunt's rivalry is beautifully depicted in this film.
---
Director: Christopher Nolan
Writer: Christopher Nolan
Cast: Harry Styles, Tom Hardy, Fion Whitehead
Dunkirk is a war movie that entails the story of the evacuation of 330,000 soldiers from the beach. In 1940, Germany attacked France on the beaches of Dunkirk, resulting in detaining of numerous allied troops on the site. British & French forces slowly & efficiently evacuated the soldiers by using all of their resources.
---
Once Upon a Time in Hollywood(2019)
Director/Writer: Quentin Tarantino
Stars: Leonardo DiCaprio, Brad Pitt, Margot Robbie
Leonardo DiCaprio and Brad Pitt starring Once Upon a Time in Hollywood hold a story of a fading TV Star Rick Dalton and his stunt double, Cliff Booth. They strive for one last time to gain fame in the last years of Hollywood's Golden Age in 1969, Los Angeles.
---
Yesterday(2019)
Director: Danny Boyle
Writer: Richard Curtis
Stars: Himesh Patel, Lily James, Sophia Di Martino
The Musical romance yesterday is about an aspiring young musician. He wakes up one day and realizes he is the only one on the Earth to remember The Beatles. And he also learns that he has woken up in an alternate timeline, where they never existed.
---
Director/Writer: Ari Aster
Stars: Florence Pugh, Jack Reynor, Vilhelm Blomgren
A couple begins their journey to an ultimate vacation in Scandinavia. So naturally, they also want to visit the rural hometown's legendary Swedish mid-summer festival. But soon, this idyllic vacation turns into an increasingly violent and strange competition carried out by a pagan cult.
---
Director/ Writer: Zack Snyder
Stars: Dave Bautista, Ella Purnell, & Tig Nautaro
A group of professional soldiers plans out the biggest heist after the outbreak of Zombie infection in Las Vegas. In an effort to retrieve $200 million, the group had an encounter with a herd of intelligent zombies known as "Alpha". The mercenaries also came across a zombie tiger.
---
Director: Leigh Janiak
Writer: R.L. Stine
Stars: Kiana Madeira, Olivia Scott Welch, Benjamin Flores Jr.
Part one is the sprawling epic horror story that you might be longing for ages. A group of teenage kids accidentally come across the mysterious evil responsible for a series of murders in their town. The movie is based on R.L. Stine's best-selling horror series. The sequels of Fear Street are also worth watching.
---
Catch Me If You Can (2002)
Director: Steven Spielberg
Writer: Jeff Nathanson
Stars: Leonardo DiCaprio, Tom Hanks, Christopher Walken
One of Steven Spielberg's finest works with DiCaprio, who is an excellent con artist extracting millions out of people, until he grabs the attention of an FBI Agent, Carl Hanratty, who becomes obsessed with the con man. One of Leonardo's finest works and rightfully on the list of the best Netflix UK movies.
---
Director: Christopher Alender
Writer: Marcos Gabriel
Stars: Brigitte Kali Canals, Andrea Cortes, Julia Vera
The movie is about a young Mexican journalist, Christina. She travels to her ancestral home in order to investigate a story of black magic and healing but ends up getting abducted by a group of locals. They claim that she is the devil incarnated.
---
Director: Roar Uthaug
Writer: Geneva Robertson-Dworet
Stars: Alicia Vikander, Dominic West, Walton Goggins
Lara Croft, a 21-year-old, independent daughter of Lord Richard Croft, yearns to find her lost father. She somehow managed to reach the island where her father vanished. She must find the truth about her father's past and disappearance.
---
Director: Tate Taylor
Writers: Erin Cressida Wilson, Paula Hawkins
Stars: Emily Blunt, Haley Bennett, Rebecca Ferguson
The movie revolves around a divorced young woman Rachel Watson's life. She is entangled in a murder that ruins the peace of her mind. She must find the murderer in order to save her life and everything that is left.
---
Director/Writer: Ari Aster
Stars: Tony Collette, Milly Shapiro, Gabriel Byrne
Annie's mentally ill mother passed away, and the whole family tries to console her and mourn over her loss. However, Annie and her daughter find an unusual way to handle their grief, which is flirting with the supernatural. As a result, both of them experience otherworldly evil experiences.
---
Director/Writer: David Michôd
Stars: Tom Glynn-Carney, Gábor Czap, Tom Fisher
Young man Henry V is left to deal with a crippling civil war-oriented England in the 15th Century. And there is a lot for him to do in order to restore peace within his region.
---
Director: Fernando Meirelles
Writer: Anthony McCarten
Stars: Anthony Hopkins, Jonathan Pryce, Juan Minujín
What will the Church do to maintain a neutral ground between the old conservative Pope Benedict XVI and the future liberal Pope? Leave them together to figure it out for themselves—a humorous and brilliant take on serious matters to bring out reliability.
---
Director: Craig Brewer
Writer: Scott Alexander, Larry Karaszewski
Stars: Eddie Murphy, Keegan-Michael Key, Mike Epps
A biopic of the infamous Rudy Ray Moore, who proved everyone wrong about his abilities to star in a kung-Fu anti-establishment movie.
---
The Death of Stalin (2017)
Director: Armando Iannucci
Writers: Fabien Nury
Stars: Steve Buscemi, Simon Russell Beale, Jeffrey Tambor
An absurd comedy and satire which didn't fail to disappoint as it portrays the death of Joseph Stalin and how his subordinates struggle to fight for power to become the force of power in Soviet Russia.
---
Director: Galder Gaztelu-Urrutia
Writer: David Desola
Stars: Ivan Massagué, Zorion Eguileor, Antonia San Juan
It is a Spanish dystopian thriller named " El Hoyo," meaning the Hole. It is a sci-fi movie that is based on a future dystopian universe where there is a huge difference between the rich and the poor. This vertical prison depicts the vertical hierarchy of wealth that exists in our society. Prisoners are stacked in prison cells one after another like items sold in a store.
---
The Woman in Black(2012)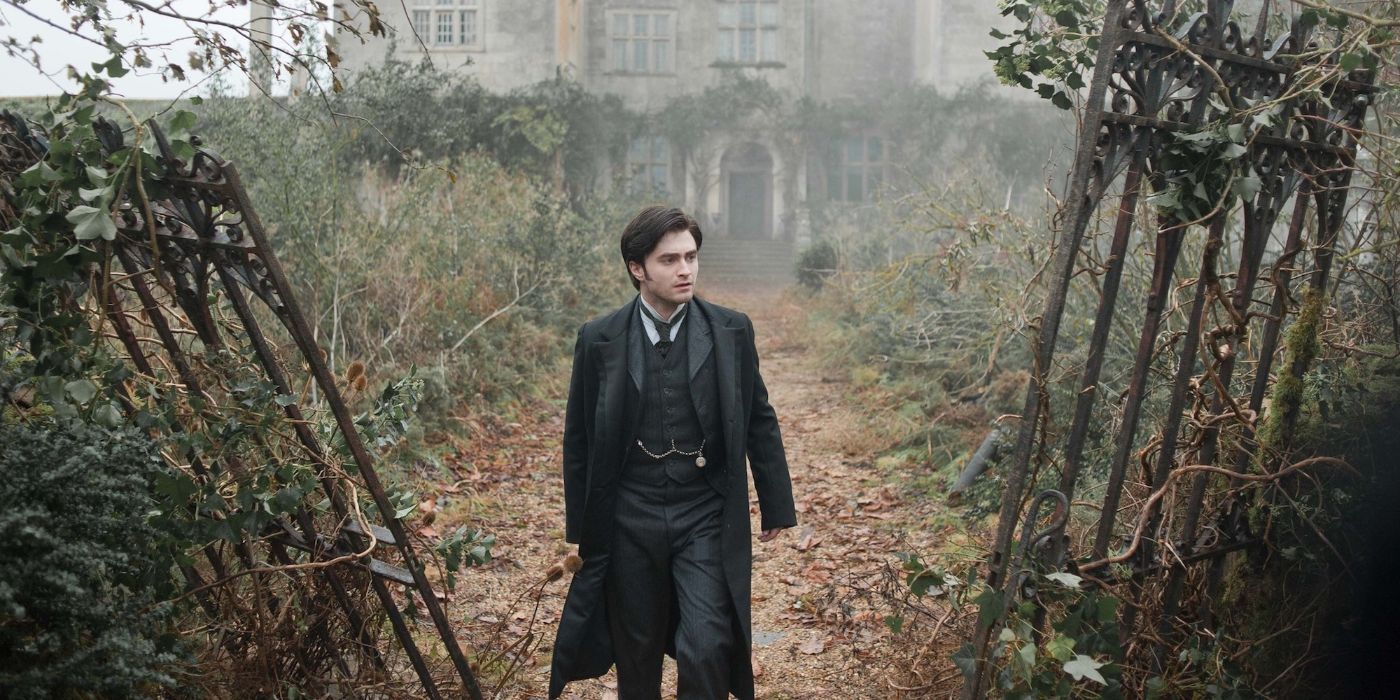 Director: James Watkins
Writers: Susan Hill(novel), Jane Goldman(screenplay)
Stars: Daniel Radcliffe, Janet McTeer, Ciarán Hinds
Arthur Kipps, a grieving widower and a lawyer is sent to a remote village for settling a deceased client's affairs. Soon after arriving there, he found out that the house of his late client is possessed by the spirit of a woman. Nobody in the village is safe from the wrath of that spirit, not even the children.
---
Director: David Fincher
Stars: Daniel Craig, Rooney Mara, Christopher Plummer
Based on the story of a journalist who takes help from a smart computer hacker to find a woman missing for the past forty years. But they get more information than they ask for, and there is no turning back from it now. it is one of the high-rating movies on Netflix right now. The way David Fincher directed this movie is worth admiring.
---
Director: Nuel C. Naval (as Nuel Crisostomo Naval)
Writer: Özge Efendioglu, Kubilay Tat
Stars: Aga Muhlach, Bela Padilla, Xia Vigor
Where does justice lie when a mentally disabled man is wrongfully charged with sexual assault by a young sex worker, kidnapping, and murder of a little girl. His punishment? Death! Luckily his inmates soon realize that he is as innocent as he can be and plan to smuggle his young daughter inside the cell to meet him. Seeing his hardships and struggles, she grows up to be a lawyer and vows to fight justice for her innocent father.
---
Directors: Michael Rianda, Jeff Rowe
Writers: Michael Rianda, Jeff Rowe, Alex Hirsch
Stars: Abbi Jacobson, Danny McBride, Maya Rudolph
The Mitchell family's attempts to bond as a family quickly derailed when the world's electronic devices awakened and began an uprising. The family must band together with the help of two friendly robots to preserve one another — and the planet — from the new technological revolution.
---
Director: Leigh Janiak
Writers: Phil Graziadei
Stars: Kiana Madeira, Ashley Zukerman, Gillian Jacobs
The third part of the Fear Street Trilogy, and one of the scariest Netflix movies right now. The third sequel of this franchise continues with their horror-filled stories dating back to 1666 when a town unintentionally became a part of a witch hunt which lead to dire consequences and a curse that remained with the town for centuries.
---
Arrival (2016)
Director: Denis Villeneuve
Writers: Eric Heisserer
Stars: Amy Adams, Jeremy Renner, Forest Whitaker
Linguistics professor Louise Banks carries out her mission leading an elite team of investigators when huge spaceships landed on different locations of the Earth. The professor must find a way to communicate with Aliens to unravel the mystery behind this arrival. The future of the human race is at stake. She must save it while ensuring the safety of her own life.
---
Director: Alexandre Aja
Writer: Christie LeBlanc
Stars: Melanie Laurent, Mathieu Amarlack, Malik Zidi
This is a French movie about a young woman who wakes up in a cryogenic chamber with no track of memory about how she got there. Soon she realizes that the oxygen levels inside the chamber are rapidly depleting, and the AI (MILO) will not let her go without an administrator code. So she must find a way to trick AI and escape before the oxygen levels are down to zero.
---
Tenet (2020)
Director/Writer: Christopher Nolan
Stars: John David Washington, Robert Pattinson, Elizabeth Debicki
A CIA agent has been sent on a mission to save humanity and the world from world war III. He does not have any weapon to carry out his mission but a single word "Tenet." To complete his mission successfully, he must travel through time and bend the laws of nature. Watch the movie and find out how he manages to perform his duty without any weapon.
---
Director: George C. Wolfe
Writers: Ruben Santiago-Hudson, August Wilson
Stars: Viola Davis, Chadwick Boseman, Glynn Turman
Ma Rainey's Black Bottom is a well-known blues singer with a strong personality. The story begins on July 2, 1927, when Ma's manager schedules a recording session. Toledo, Cutler, and Slow Drag arrive on time without Ma, which irritates her producer.
---
Director: Rapman(Rapman)
Writer: Rapman
Stars:  Micheal Ward, Eric Kofi-Abrefa, Khali Best
The movie is a brutally honest depiction of street culture and also showed the clouding mental effect that revenge produces. The film provides a brutally honest portrayal of street life, as well as a picture of revenge's mental effects. The film illustrates the current crisis of knife crime in London and the young actors were excellent.  Rapman had already directed hits like Shiro's Story 1, 2, and 3, but Blue Story was his first theatrical release, and it did well.
---
Director/ Writer: Patty Jenkins
Cast: Connie Nielsen, Gal Gadot, Chris Pine, Robin Wrightherson
Diana Prince was employed at the Smithsonian Institution in Washington in 1984. Diana Prince lives peacefully among mankind in the colorful, elegant 1980s, an age characterized by luxury and the desire to have it all.
Despite the fact that she has fully developed her abilities, she keeps a low profile by preserving ancient relics and only doing heroic deeds in secret.
Diana, on the other hand, will soon have to summon all of her power, knowledge, and courage as she faces up against Maxwell Lord and the Cheetah, a villain with superhuman strength and agility.
---
Director/Writer: Remi Weekes
Cast: Wunmi Mosaku, Sope Dirisu and Matt Smith.
Most of the time, there's more than what meets the eye, and this movie is all about that. A couple barely escaped their mid-war country but have a hard time adjusting to their new refugee life in England. Without a doubt, this movie is one of the best movies on Netflix.
---
Director/Writer: Hayao Miyazaki
Cast: Daveigh Chase, Suzanne Pleshette, Miyu Irino
Chihiro's family is moving to the suburbs, and she is not happy about it. On their way, the family stumbles upon an abandoned amusement park and decides to explore it, much to the dismay of the little girl. Secrets begin to unravel as they spend more time at the enchanted place, and before they know it, they get trapped inside.
---
Dredd (2012)
Director: Pete Travis
Writer: John Wagner
Cast: Karl Urban, Olivia Thirlby, Lena Headey
In a futuristic city, where criminals rule the streets and police act as the judiciary. Dredd, the city's most feared cop, creates an ally with a trainee on a dangerous mission to take down the drug lord, Ma-Ma.
---
Director: David Fincher
Writer: James Vanderbilt, Robert Graysmith
Cast: Jake Gyllenhaal, Robert Downey Jr., Mark Ruffalo
The movie does not fabricate an ending in which the killer is caught because the case is UNSOLVED in real life. You will be on the edge of your seat the entire time. The acting is phenomenal; Jake Gyllenhaal and Robert Downey Jr. are astounding! Do yourself a favor and take the time to watch this; you will not regret it.
---
 Director: Martin Scorsese
Writer: Terence Winter
Cast: Leonardo DiCaprio, Jonah Hill, Margot Robbie
"The Wolf of Wall Street," directed by Martin Scorsese, is based on Jordan Belfort's memoir of the same name. Belfort was a multimillionaire stockbroker who was convicted of securities fraud and money laundering and sentenced to prison.
Director: Cary Joji Fukunaga
Writers: Cary Joji Fukunaga, Uzodinma Iweala
Stars: Abraham Attah, Emmanuel Affadzi, Ricky Adelayitor
The film Beasts of No Nation is based on Uzodinma Iweala's novel of the same name. Cary Fukunaga adapted the film for the screen, as well as directed and operated the camera.
The filming of Beasts of No Nation took place in Eastern Ghana, which provided a number of obstacles. Beasts of No Nation stars Idris Elba and Abraham Attah.
---
Director: Alex Garland.
Writers: Alex Garland, Jeff VanderMeer.
Cast: Natalie Portman, Jennifer Jason Leigh, Tessa Thompson.
The combined genre of Science-fiction and horror always creates a great story. This movie is one of those out-of-the-box creations. A place where the laws of nature do not apply sounds exciting in theory.
However, it is a nightmare come true for one biologist who agrees to go on an expedition in one such weird place.
Things take a nasty turn as their search for answers leads to nothing, but dead ends and mutated creatures make the journey even harder.
---
Director: Matt Palmer
Writer: Matt Palmer
Cast: Jack Lowden, Martin McCann, Tony Curran
Vaughn and Marcus leave to explore the Scottish Highlands. The title itself gives away the movie premise, that is, someone will have their abilities tested.
Under normal circumstances, it would have been the wild animals as the two friends have ventured on a hunting trip. However, one deed turns their journey into a living nightmare where they must use every trick up their sleeve to survive.
---
Director: Olaf de Fleur Johannesson
Writers: Ben Ketai, Eva Konstantopoulos
Stars: Florence Pugh, Ben Lloyd-Hughes, Scott Chambers
The fact that this wasn't a big-budget film only added to our admiration. A good plot that pulls from several scary cult classics in which a team of scam artists comes across more than what they bargained for.
No, there isn't any gore or guts in it, and there isn't any CG or other digital effects. It's a fantastic, straightforward film that's beautifully written, directed, and shot. Malevolent taught us that a good horror movie can be made during the day!
---
Director: Thea Sharrock
Writer: Jojo Moyes
Cast: Sam Claflin, Emilia Clarke, Janet McTeer
Louisa is a young girl who just lost her job, and she doesn't like to stay idle. Thus, she is on the lookout for a new job. Soon enough, she gets one, where she's supposed to take care of a paralyzed man; however, she soon realizes that there is a spark between both of them.
Follow their romantic journey through this movie; we love how it's always able to ignite passion and emotions in its viewers.
---
Director: David Mackenzie
Writer: Bash Doran, David Mackenzie, James MacInnes
Cast: Chris Pine, Aaron Taylor-Johnson, Florence Pugh, Billy Howle
In the movie Robert the Bruce, the great warrior gets the crown of Scotland but is denied his place as the King. The entire story is filled with war tactics and moves he plans to reclaim his throne. In addition, the movie comes with amazing VFX and graphics, which take you back in time.
Chris Pine is seen in the movie with his amazing acting skills. However, the fact that makes this movie different from all others is the beautiful display of action, battle, and combat styles used long ago in human history.
---
Director: Zack Snyder
Writers: Jerry Siegel, Joe Shuster, and Chris Terrio
Cast: Ben Affleck, Jason Momoa, Gal Gadot
Due to his renewed faith in humanity and Superman's selfless act, Bruce Wayne seeks out Diana Prince for help to fight an even greater enemy. Batman and Wonder Woman quickly assemble a team of metahumans to stand against this newly awakened threat.
Yet despite the formation of this unprecedented alliance of heroes, Batman, Wonder Woman, Aquaman, Cyborg, and The Flash, it may already be too late to save the planet from an attack of catastrophic proportions.
---
The Lego Movie 2: The Second Part (2019)
Director: Mike Mitchell
Writers: Phil Lord, Christopher Miller, Matthew Fogel
Stars: Chris Pratt, Elizabeth Banks, Will Arnett
LEGO DUPLO invaders from outer space are wrecking everything in their path. The quest to vanquish the evil and restore peace to the LEGO universe brings Emmet, Lucy, Batman, and the others to far-flung, uncharted territories.
---
Director: Will Gluck
Writer: Bert V. Royal
Stars: Emma Stone, Amanda Bynes, Penn Badgley
High School rumors can be devastating and may ruin your social life, but Olive is a smart girl who knows how to turn the tables and use these rumors for her own financial gains without caring what anyone has to say about her or her reputation.
---
Scott Pilgrim vs. The World (2010)
Director: Edgar Wright
Stars: Michael Cera, Mary Elizabeth Winstead, Kieran Culkin
Battle of the bands or war of the exes? Not sure what, but Scott Pilgrim has a lot to fight for to woo his lady love, Ramona Flowers. In a battle of exes, Scott must defeat all seven evil exes of Ramona, but there is a lot at stake with his music career and his teammates all depending on him.
---
Director/Writer: Prentice Penny
Stars: Courtney B. Vance, Lashun Pollard, Michael Mobley
Elijah had a tough choice to make when he pursued his love for wine and went on to become a master sommelier against the wishes of his family, who has plans to bring him to the family BBQ business.
A relatable tale for all the children who have struggled to balance their own dreams against their parents' wishes, creating a minor rift between the family, which later on resolves, giving essential life lessons. Uncorked is a family movie, and if you are looking for an emotional rollercoaster, it is the best movie on Netflix for that.
---
Director/Writer: Bryan Fogel
Stars: Bryan Fogel, Dave Zabriskie, Don Catlin
In an attempt to expose the biggest scandal in the history of sports, filmmaker Bryan Fogel sets out to reveal the truth behind doping and athletes on steroids. From dirty urine to untimely and unexplained deaths. There is a lot to uncover as Bryan gets into conversation with a Russian Scientist who turns the story into a psychological thriller.
---
Director: Martin Scorsese
Writer: Paul Schrader
Stars: Robert De Niro, Jodie Foster, Cybill Shepherd
An ex-marine and a mentally unstable man is working as a night-time taxi driver in New York City. But he is still a patriot and a good man, and despite his discharged status, he has taken it upon himself to fight against corruption that comes his way as he drives around the sinister roads of NYC at night.
---
Wrapping up!
Hopefully, our extensive research and recommendations will be of some use to you. You can now reduce wasting time hovering on the titles and utilize it to watch the best movies on Netflix UK to watch right now. In case you are unable to find your favorite movie title, you can switch regions easily using a Netflix VPN for free in UK.
If there are any other recommendations from your end, feel free to comment below, and we will certainly include them in our list. So what are you waiting for just grab your snacks and turn your night into a movie night and watch the best Netflix movies?
Read More: 5 Best HBO Max VPN to Unblock in 2021 [Complete Guide]