Elizabeth Olsen has stated many times in her interviews that as a kid she always knew that her sisters were really famous and that she wanted to make a place for herself in the world rather than being introduced as the sister of famous stars, Mary-Kate and Ashley Olsen.
According to Buzzfeed, In an attempt to distance herself from the shadow of her successful and famous sisters Elizabeth thought, she would go by her middle name rather than her surname which would easily indicate her association with famous sisters who got recognition from a very young age and later on also opened up their fashion brands. So for a very long time, Elizabeth went by the name Elizabeth Chase, rather than Elizabeth Olsen.
According to her, even as a kid she did know what nepotism was and did not want the added benefits that she could get due to her sisters' fame. She says she wanted to do things on her own and prove herself! The actress does not shy away from being open and telling about her feelings, as she mentioned that she felt pressurized due to her elder sisters' early success.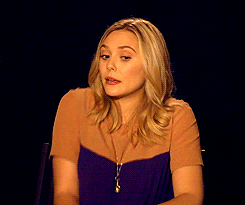 It is also because of this that initially Elizabeth never wanted to be an actress and instead do something else, in an interview she stated that she thought she was going to be working on Wall Street, however, as fate would unfold Elizabeth had her first role in a 1994 movie named "How the West Was Fun."
The actress states that she was 10 when she began auditioning and it did not take her long to realize that it wasn't the thing for her. She started missing out on her sports activities, dance classes, and other extra-curricular activities at school.
However, later in 2011 she got fully indulged in acting and starred in TV series like "Silent House," "Martha Marcy May Marlene," and "Peace, Love & Misunderstanding." Elizabeth tried to hold her acting career so that she wouldn't be associated or compared with her sisters.
As she took part in these series and acted in other independent films as well, she started to gain wider recognition globally. A huge turning point in her career was when she featured in an end credits scene of 2014's "Captain America: The Winter Soldier".
This meant that greater things were coming her way and they did as she featured in Avengers: Age of Ultron, and other MCU movies such as the 2019's blockbuster film "Avengers: Endgame."
At the moment Olsen says she is happy with acting at the moment but has not limited herself to it for a lifetime, she might go on to do different things in the future.
Read More