There are more searches about Katy Perry than American Idol itself, there's a lot of drama that the young star brings to the set that justifies her $25 million paycheck for the show.
The iconic Lionel Richie on the other side is getting $7 million which is peanuts compared to what Katy is bagging in, but it's her drama and fan following of young audience that gets the show such a huge trend. For those who want to follow this dramatic reality show, making epic turns every week can catch it Live anywhere.
Katy surely knows how to make everything about herself have a look at this clip from the first episode where a gas leak leads to some minor casualties and of course Katy was effected too!
Oh but she's conscious enough to unlock her phone for selfies!

This is the third time Katy is judging the show and clearly, she has shown similar acts previously as well, such as kissing the 19-year-old contestant, Benjamin Glaze. When a contestant Maddie finished singing "Bubbly" Katy literally ripped her pants in front of the screen! And even pulled a prank on contestants which resulted in one of them getting crying.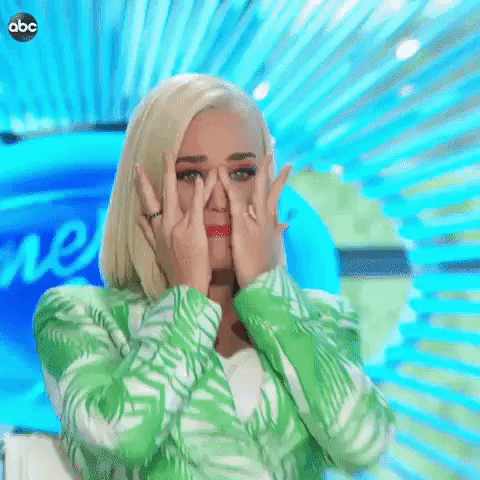 Well, this time, it's Katy who is crying taken it to twitter! When the 22-year-old contestant Courtney Timmons showed up with her wonderful voice, Katy overreacted and made it all about herself, showing an overly emotional response, which to be honest seems fake.
IF #AMERICANIDOL MAKES YOU OR ONE OF YOUR FAMILY MEMBERS (like my brother in law) CRY EVERY WEEK SEND ME YOUR PHOTOS OF YOU OR THEM AND I WILL RT THE BEST UGLY CRY FACES @RYANSEACREST ??? pic.twitter.com/h5ZJsWa5AP

— KATY PERRY (@katyperry) March 2, 2020
Apparently Ryan Seacrest started this whole drama with his tweet, I mean Courtney is good, but excuse me all this seems a little too much! But what can you do when Hollywood starts a trend? you follow it!
I'm crying. @katyperry is crying. America is crying. We're all crying. Courtney was the #AmericanIdol curveball we didn't know we needed. So proud of her pic.twitter.com/lFshMjq5Lc

— Ryan Seacrest (@RyanSeacrest) March 2, 2020
don't rt this lol pic.twitter.com/hlpDdejMl1

— sarah ? (@xkatycatsarah) March 2, 2020
@katyperry heres my dog watching #AmericanIdol with me ?? pic.twitter.com/yXK0BN1vDe

— Jacob (@Jacobxbecerra) March 2, 2020
expose me pic.twitter.com/QtcvXQWWZL

— ???? (@imchained2katy) March 2, 2020
im late but here i am ? pic.twitter.com/Qk7AvwnSZ0

— MILFCAT (@katysintimacy) March 2, 2020
TRYING TO BE CUTE @katyperry #AmericanIdol pic.twitter.com/Ja4tD0Z5Kz

— Destiney (@clowneryswift) March 2, 2020