When it comes to superhero movies, there is a big debate on DC vs Marvel movies amongst us all. This is indeed a rivalry that has existed for a long time and will continue to be debated.
When it comes to dc vs marvel movies, Marvel comes out on top in terms of box office receipts, while DC struggles with scripts. Let's have a comparison of DC vs Marvel movies to find out which ones are better!
---
DC Movies
In contrast to Marvel, DC has no tie-ins with its film world on television. Period. The DC Expanded Universe refers to DC's common cinematic universe.
DC Multiverse is a common term for the company's television productions. Zack Snyder, the director of "Batman v Superman," claims that the film takes place in a "multi-universe." Are you clear on all of that? "Arrow" and its spinoff, "The Flash," maintain a universe apart from the movie, premiered in 2012.
"Batman v Superman's" Flash (Grant Gustin), for example, is not the same guy who portrays the Flash in the TV programme (Ezra Miller). "Legends of Tomorrow," the follow-up series to the critically acclaimed TV movie series "Arrow," occurs in the same small screen world as "Legends of Tomorrow." Whoa.
A new show, CBS-produced "Supergirl," added to the lineup. Melissa Benoist stars in the series, which is bright and more cheerful than previous DC flicks and now resides in the same universe as the other TV programs following a confluence with TV's Flash.
The film's creators have avoided any allusions to a certain Superman. "Gotham," which premiered in 2014 and depicted Jim Gordon as a caring father to young Bruce Wayne, is another option.
It has nothing to do with the other DC shows now airing on TV. And there's no link whatsoever to the present caped crusader. The upcoming DC movies in order are mentioned in this article.
---
Marvel Movies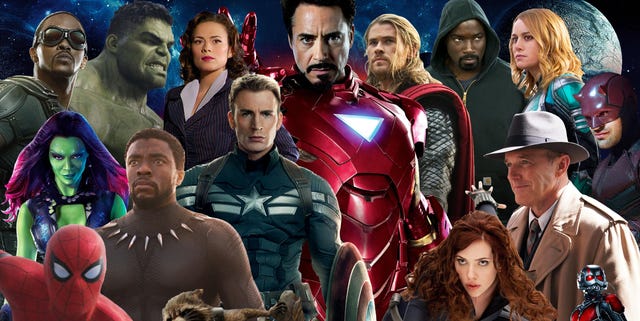 Before 2009, Marvel granted and licensed film rights to studios, preventing some superheroes from featuring in each other's films. For example, the character rights to Spider-Man and the Hulk belong to Sony and Universal, correspondingly.
In order to make the most of the Spiderman movies, we recommend you watch the Spider-Man movies in order.
It was a pain for comic book enthusiasts who could read crossover storylines but not see them on TV or cinema. Fortunately, Disney's acquisition of Marvel and its film rights laid the ground for a more comic-book-like interwoven movie and TV world.
The mix of Robert Downey Jr.'s charisma and the fun, lighter attitude to superhero saviours struck a chord with viewers in 2008's "Iron Man." "Iron Man" paved the way for future Disney and Marvel films like "Thor" and "Captain America" that focused on certain Avengers characters. The Avengers (2012) brought them together in a classic Marvel comics team-up.
Agents of SHIELD, which aired in 2013, also included plots that referenced the Avengers movie. The result is a multi-layered superhero universe that makes you feel linked to every character. Despite being set in the 1960s, "Agent Carter" has similar tie-ins. Disney just announced it would develop "Marvel's Cloak & Dagger."
Daredevil (2015), Jessica Jones (2015), Luke Cage (2015), and Iron Fist (2015) were all produced by Netflix in collaboration with Marvel. The streaming service will also screen "The Defenders," a miniseries starring all four characters.
Marvel's strategy for these Netflix films is a single-character introduction series followed by a massive crossover event. Uncertainty surrounds whether or not they will be ancillary MCU products or involve crossover plots with the "real" films and TV programs.
---
Main Difference Between DC Movies vs Marvel Movies?
DC Comics live-action movies and projects that don't fit into the DC Extended Universe must be kept in mind as the DC cinematic universe prepares to release its next wave with The Flash, Aquaman, the Lost Kingdom, and more.
In contrast to DC vs Marvel movies, DC's ambitions do not incorporate cross-platform synergy. While many of the characters from their films appear in the CW TV verse, which includes The Flash, Legends of Tomorrow, and Superman & Lois, or DC Universe streaming series like Titans and Doom Patrol, their movies don't usually cross over.
Batman Begins, starring Robert Pattinson and Matt Reeves, takes place in a parallel reality to the rest of the DC Extended Universe films. It's also worth noting that several of HBO Max's exclusives (such as Gotham PD and Peacemaker) have direct DCEU connections.
If we look at the first seasons of 'Arrow' and 'Daredevil,' the former was far superior to the latter. 'Arrow' was responsible for creating the character from the ground up. Each and every motion he learned had a backstory behind it that he was unaware of.
An extended flashback sequence in which we saw how our superhero learned different combat tactics and his battles to live in agonizing circumstances.
Marvel's lack of maturity is a problem. Superheroes are no longer restricted to the realm of children's fiction. We can't predict that anybody will ever find Iron Man to be a greater superhero than Batman, but at the very least, Marvel will make an effort to develop pictures that are appropriate for an adult audience. Watch all Marvel movies in order to have an extra dose of entertainment!
All Marvel and DC have great superheroes, so we need to look at both sides. Under dc vs marvel movies, as opposed to Captain Marvel vs Superman or Hulk vs Aquaman, There are considerably more strong beings in the Marvel vs DC Universes than the heroes and villains we are familiar with.
Marvel's Protege and DC's The Presence are likely the two biggest hits. Protege is a cosmic creature that may replicate the abilities of other beings. So he might be anything's equal. Our hypothetical conflict implies he can match any DC Character's power. A fight between two rosters would likely be a power/ strength draw. If you are a kind who loves both Marvel and DC then checkout your favorites from out list of best movies on Netflix.
---
DC and Marvel Movies Releasing in 2022
DC League of Super-Pets
Black Adam
Shazam! Fury of the Gods
Aquaman and the Lost Kingdom
The Flash
Batgirl
The Sandman TV Series
Harley Quinn Season 3
Titans Season 4
Doom Patrol Season 4
Pennyworth (Season 3)
Young Justice: Phantoms Season 4
The Arrowverse TV Series
Blue Beetle
Peacemaker Season 2
Wonder Woman 3
Gotham PD/Arkham TV Series
Penguin TV Series
Superman TV Series/Movie
Green Lantern Corps TV Series
Justice League Dark TV Series/Movie
Zatanna
Static Shock
Wonder Twins Movie
Supergirl
Joker 2
Marvel Movies releasing in 2022
Moon Knight
Doctor Strange in the Multiverse of Madness
Ms Marvel
Thor: Love and Thunder
Untitled Halloween Special
Black Panther: Wakanda Forever
The Guardians of the Galaxy Holiday Special
She-Hulk
The Marvels
Guardians of the Galaxy Vol. 3
Ant-Man and the Wasp: Quantumania
X-Men '97
Secret Invasion
Blade
Deadpool 3
Fantastic Four
I Am Groot
Armour Wars
Ironheart
Echo
Wakanda Series
Captain America 4
Loki Season 2
What If…? Season 2
Agatha: House of Harkness
Spider-Man: Freshman Year
Marvel Zombies
Shang-Chi and the Legend of the Ten Rings 2
---
FAQs
Marvel vs DC movies; which is better?
Both are packed with popular superheroes like Batman, Iron Man, Captain America, Superman, and a slew of others. Marvel, on the other hand, makes superior films. Due to a lack of cohesion inside the expanded world, DC's popularity is dwindling.
Will there be a DC vs Marvel movie?
Imagining a cinematic world in which Marvel and DC characters coexist would be nothing short of a festival for lovers of the superhero genre. There is a potential that this may happen shortly. Kevin Feige, the president of Marvel Studios, has discussed the possibility of a cinematic crossover between Marvel and DC. The two comic book titans have cooperated on several occasions in print, but they have yet to collaborate on a film project.
---
Final Words
Ultimately, it doesn't matter which candidate you like to be president. A personal choice rather than an objective winner in any shape or form is a personal preference.
To assist individuals in making their own decisions about which franchise they want to devote more of their time to reading, the above DC vs Marvel movies was intended to illustrate some of the most significant distinctions between Marvel and DC movies. It's much better if you read both at the same time.